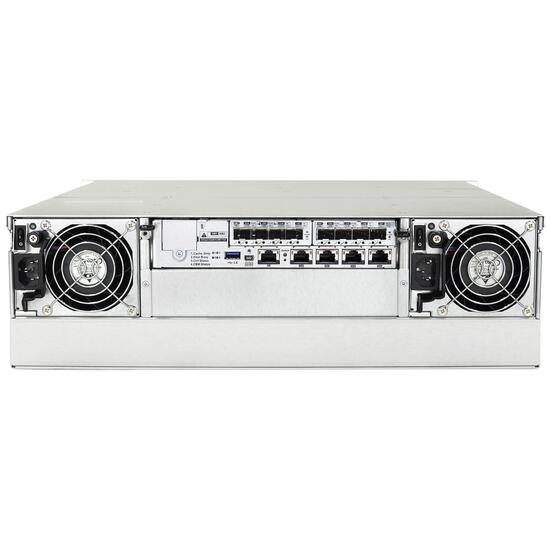 In partnership with Infortrend, Metro presents the perfect entry-level NAS solution with the EonStor GSe Pro 1000/3000 lines, available in 4, 8, 12, and 16 bay enclosures.
The rackmount EonStor GSe Pro 1000/3000 lines are entry level enterprise NAS solutions designed for SMBs and ROBOs. It provides complete data storage, file sharing, and cloud integration, with reliable performance to meet the various needs of light applications at an affordable price. The EonStor GSe Pro 3000 comes with an expandability of up to 4PB storage capacity to assist enterprises meet the needs of future data growth, while providing up to two sets of modular host board slots for various applications or architecture transformation to offer more deployment flexibility. The GSe Pro 3000 is perfect for the performance- and expansion-conscious, while the GSe Pro 1000 is ideal for the budget-conscious, as it can complete all basic IT application deployment within a limited budget.
Ask us about our promo deals and pricing!
More information at https://www.infortrend.com/
---
EonServ is an integrated storage server solution exclusively designed for enterprises, providing complete storage protection (RAID1, RAID5, RAID6) with an easy-to-use management software (EonOne Lite) to efficiently lower deployment costs and maintenance complexity. Its hardware design features 2U 12-bay or 3U 16-bay form factors, with SAS support for JBOD storage expansion of up to 436 disks.
Furthermore, EonServ 5000 models adopt a cableless design to prevent system abnormalities caused by poor connection or cable wear to effectively lower maintenance costs, perfectly integrating storage and server into one device. The whole product line is fast, flexible, and reliable, so that you can find the perfect storage device according to your performance or budget needs.
More information at https://www.infortrend.com/
---
VulcanStor is Metro's in house line of DAS/NAS/SAN storage solutions. Manufactured by one of the top Tier 1 Storage manufacturers in the world, our handcrafted solutions provide superior density, speed and scalability at unbelievable pricing. All of our VulcanStor solutions come with 3 years of hardware support and cross ship replacement at no additional charge. Additional services include optional 24 hour support and on-site service.
---
V-Serve is Vulcan's super density NAS solution solving the needs of facilities requiring a high density, performance driven data storage serving. NAS software includes Redhat, CentOS or Windows Server depending on the clients requirement and previous infrastructure.
---
V-Store is Vulcan's high performance direct attached storage subsystem which can be attached to any host. Whether you need a 4K subsystem for editorial or you have an existing host which just needs additional storage, the Vulcan V-Store is your perfect high performance/high density solution.
---
V-Sync is the insurance policy every facility needs. V-Sync provides an automated solution for backing up all of a facilities data. In addition to providing and safe and secure repository of your company's data, V-Sync's high performance guarantees the data throughput needed for business continuity in the event of a primary server failure.
---
Back to top